Liepmann History in the Alter St.-Matthäus Kirchhof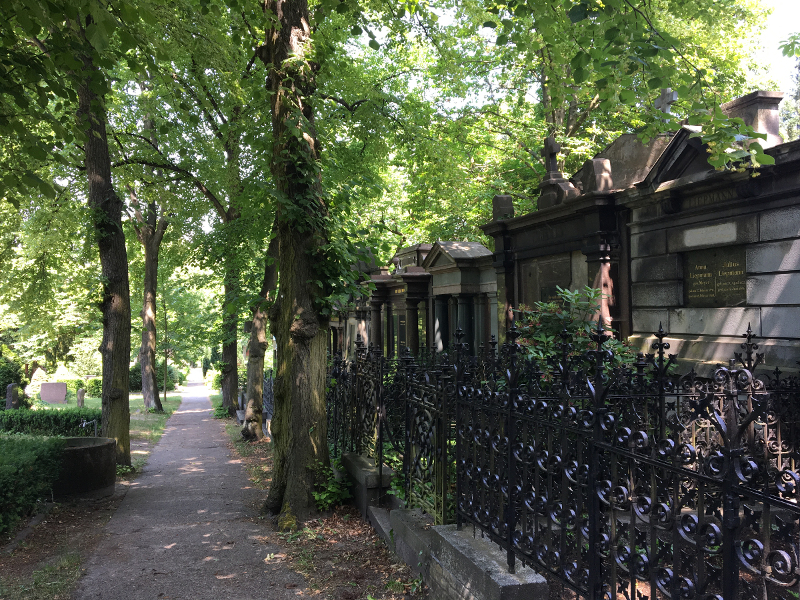 Through a friend's research on Find A Grave, I discovered three apparent relatives are buried only ten minutes away by bike:
Julius Liepmann, apparently a cloth merchant
Anna Liepmann (née Meyer or Mayer)
Gottfried Liepmann
The graves are in "Alter St.-Matthäus Kirchhof", which we might call in English "Old St. Matthew's Cemetery".
The Excursion
My wife and I set out in the blazing May heat to see these relatives' graves. It took a bit of wandering since we had no map of locations within the "Kirchhof", but we found the Liepmann family plot on the west side of an interior wall. Folks who wish to visit themselves may find it helpful to check this Google maps screenshot which marks the spot: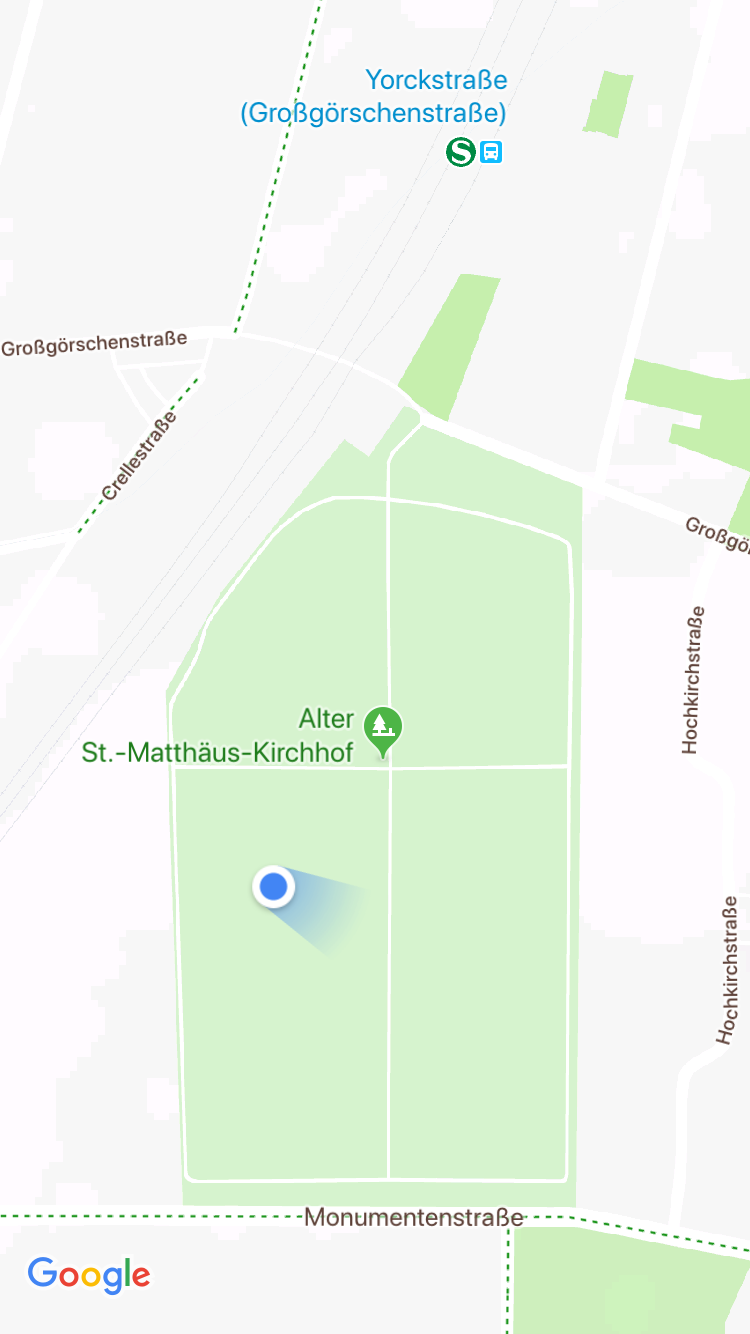 Getting closer, you can see Julius and Anna's plaques: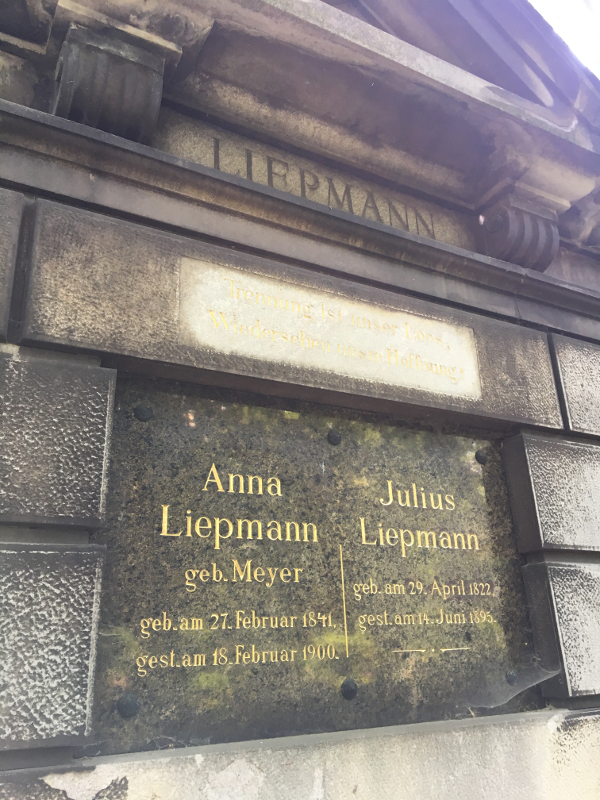 The gold inscription under "LIEPMANN" doesn't come through in the photo, but reads,
Trennung ist unser Loos Wiedersehen unsere Hoffnung
I have received some help in translating this as, "Separation is our lot / To meet again our hope".
Below the plaques for Julius and Anna we found one for Herr Doktor Gottfried, who was apparently the director of a district court and judicial council: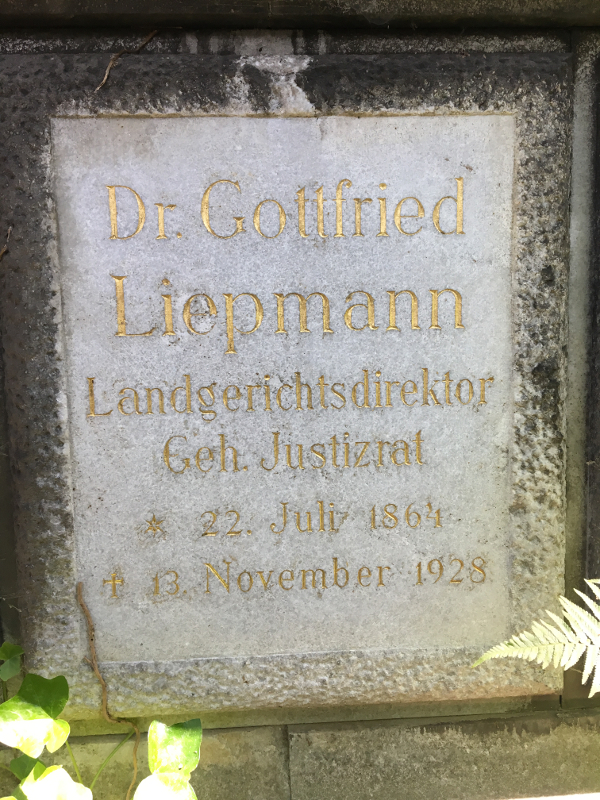 We also found a grave not listed on the Find A Grave pages that sparked our expedition: Karl Liepmann, apparently a farmer. The inscription is quite stylized; my transliteration is "I love you forever and ever" but I have been told that it translates more to "I have always loved you" and that its antiquated style marks it almost certainly as a reference to Jeremiah 31:3; "Thus, it does not evoke the association of surviving relatives mourning, but of an affirmation of trust in the love of the Lord towards the deceased."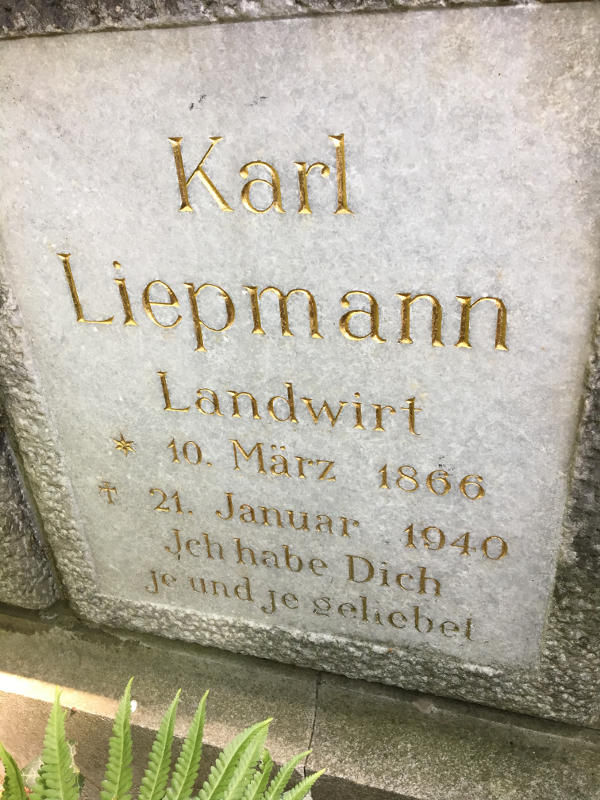 We were also surprised to find a gravestone for the Glagow family, which married into the Liepmann clan via Lilly. Unfortunately I have only mediocre photos: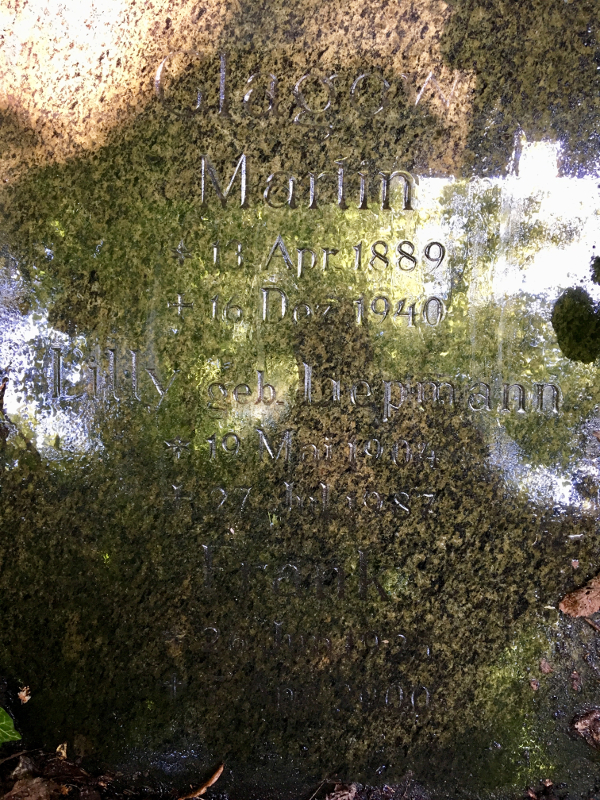 On my reading, it says
Glagow
Marlin
* 13 Apr 1889
+ 16 Dez 1940

Lilly geb. Liepmann
* 19 Mai 1904
+ 27 Jul 1987

Frank
* 26 Jun 1925
+ 7 Apr 2000

Note: "geb." is short for "geboren", German for "born". It is used here to denote a maiden name, like we use "née" in English.
Our visit was even nicer than we expected. As a rule, German cemeteries are a cut above American ones — German gravesites are rented instead of bought, which helps create a culture where graves are actively visited and tended by living family — but Alter St.-Matthäus Kirchhof is a gem even among Berlin cemeteries. The Brothers Grimm, of the famed fairy tales, are buried there. There is a grave for a German officer who tried to assassinate Hitler. The church cafe (another common sight in German cemeteries) is particularly charming in a cozy way. It's just a lovely Kirchhof.
Family Tree
I share the Liepmann name with these folks, but how are we related? It's probably easiest to orient ourselves around the patriarch who fled Germany: Hans Liepmann, my grandfather. Hans' father was Hugo Karl the physician, whose father was Louis the lace merchant. Louis and Julius were both born of my namesake (Raphael) David Liepmann and Adelheid Liepmann (née Friedländer)---whose portrait any Liepmann (or Partan) I know should recognize. This makes Julius and his wife Anna the great-uncle and great-aunt of Hans.
A very partial Liepmann family tree helps explain:

Adelheid (Friedländer) + (Raphael) David 
          |______________________|
           |       |            |
         Louis    ...        Julius  + Anna (Meyer)
           |                    |___________|
           |                     |    |    |
         Hugo             Gottfried  Karl  ...
           |
           |
         Hans  

I have no idea how Lilly and the Glagows fit in.